Deadline Extended to September 1, 2020
Hillsborough, NC – March 1, 2020
MedTec Biolab Inc., is excited to announce that we are giving away a free CelTox Sampler! The CelTox Sampler can expose in vitro lung cell models to a variety of substances (e.g. chemicals, cigarette smoke, or nanomaterials) at the air-liquid interface, mimicking human exposure. We are teaming up with the PETA International Science Consortium Ltd. to identify a research group with the capabilities and expertise to advance the field of in vitro inhalation toxicity testing. Proposals for an award to receive a free in vitro exposure system are being accepted.
"We are very excited to award one of our systems. Our versatile design and ease of use sets our technology apart. Being able to contribute to the advancement of in vitro exposure testing is very rewarding." says Dr. Zavala (Owner/President).
The winner will be selected based on the proposal's scientific merit and its potential to reduce and replace the use of animals in inhalation toxicity testing.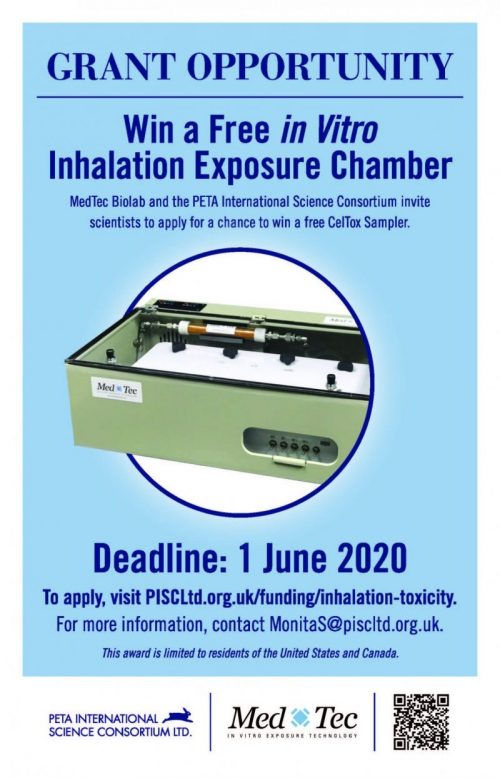 Proposal Requirements
The proposal must detail the following:

The type(s) of substance to be tested
The cell and/or tissue type(s) to be used
Proof of technical expertise with lung cells (preferably cultured at the air-liquid interface), including your curriculum vitae
The ways in which your work will reduce and replace animal use in inhalation testing
How you plan to use this award to avoid animal testing in the future?

The proposal may be no longer than 1,000 words (excluding the submitter's contact information, references, and curriculum vitae) and may include up to two supporting schematics.
Please read through the technical specifications for the CelTox Sampler to ensure compatibility with your laboratory.
This award is limited to residents of the United States and Canada.
The proposal must be submitted via e-mail to [email protected] by 1 September 2020. The winner will be announced in October 2020.
For more information on how to apply, please contact:
Dr Monita Sharma
PETA International Science Consortium Ltd.
[email protected]
For technical information related to the CelTox Sampler, contact:
Dr Jose Zavala
MedTec Biolab
[email protected]