MedTec has developed a new line of in vitro exposure systems to satisfy the demand for in vitro toxicity testing. Our superior in vitro exposure systems simplify the process for conducting exposure of cells at the air-liquid interface. These systems were designed with the user in mind by providing a versatile design; small foot-print; and effective delivery of gases, vapors, particles and aerosols onto cultured cells.
SMALL FOOTPRINT - Our compact design allows for use on a benchtop, lab cart, or inside a hood.
EASY SETUP - Unpacking and setup of the system with all the connections takes <30 minutes!
MINIMAL TRAINING - All operational parameters are preset, with easy to follow step-by-step procedures provided in the User's Manual.
GAS EXPOSURES - Efficient delivery of gases onto cells.
PARTICLE EXPOSURES - Enhanced particle deposition is achieved with the use of electrostatic precipitation.
TEMPERATURE REGULATED - The heated enclosure houses the exposure chamber and maintains a 37°C environment.
HUMIDITY REGULATED - A unique humidifier warms and moistens the air to maintain cell viability and integrity intact. The humidifier does not dilute the test atmosphere.
No other commercial system has this feature!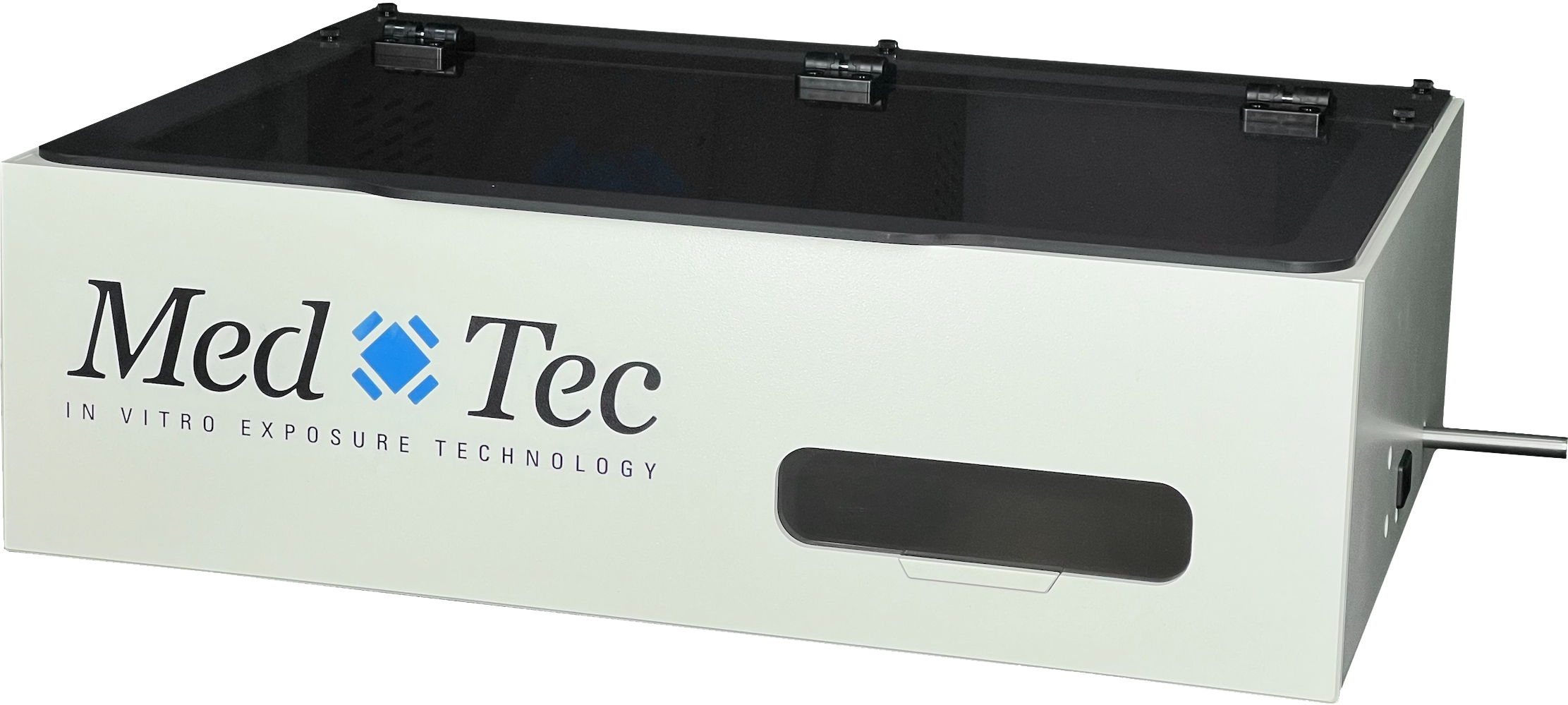 Combustion Emissions
Volatile Chemicals
Secondary Organic Aerosols
Cigarette & E-Cigarette Smoke
Bioaerosols
Nanomaterials
Dermal Exposures
Drug Delivery
MULTI-WELL FORMATS - Accommodates various multi-well formats using our custom multi-well plates or standard disposable plates.
The predecessor to the CelTox Sampler was named the Gillings Sampler. The manuscript "The Gillings Sampler – An electrostatic air sampler as an alternative method for aerosol in vitroexposure studies" can be found here.
The CelTox Sampler's unique temperature and humidity regulation is critical to avoid cytotoxicity due to cell desiccation. The manuscript "Regulating temperature and relative humidity in air–liquid interface in vitrosystems eliminates cytotoxicity resulting from control air exposures" can be found here.
In 2018,  a symposium entitled "In VitroTest Methods to Model Local Respiratory Effects after Exposure to Pulmonary Toxicants: Not Just Smoke and Mirrors" was held at the Society of Toxicology Annual Meeting. Here, a talk entitled "Understanding Air-Liquid Interface Cell Exposure Systems: A Comprehensive Assessment of Various Systems under Identical Conditions" was presented. Data in this talk clearly demonstrates the superior performance of the Gillings Sampler (the predecessor prototype of the CelTox Sampler). A manuscript on this study is in preparation. This talk can be found here.
The vision and concept of the CelTox Sampler originated at the University of North Carolina at Chapel Hill. Dr. Jose Zavala developed what is now the CelTox Sampler during his graduate studies at UNC-Chapel Hill under the direction of Drs. Harvey Jeffries, Ken Sexton, and Will Vizuete. This technology captured media attention in 2013 when National Public Radio published a story on this system. The article can be found here and you can listen to the story next.

A short cartoon was developed by NPR summarizing the vision and concept of the CelTox Sampler. Enjoy!
Interested in air-liquid interface exposures?
For more information contact Jose directly via email, Linkedin or send us a message via the site.
[email protected]